Caution is the order of the day…European stock markets fell moderately in early trade as the risk-on rally that powered Wall Street to fresh all-time highs ran out of steam overnight.  Major bourses –0.5%, with the FTSE 100 under 7,200 again and the DAX under 15,500. The yen rose and Japanese equities fell, leading a broad decline in Asian equities overnight as China Evergrande Group (HK:3333) shares resumed trading and promptly plunged 13%. US futures are lower after the Dow Jones industrial average recorded a fresh all-time high and the S&P 500 notched is sixth daily gain on the bounce as investors looked through inflation and central bank fears to better earnings. 
The Dow rose to a record intra-day high of 35,669.69, but finished the day 0.1% off its record close, gaining 0.4% for the session. As noted here recently, it might just be that the market has passed peak in/stagflation worries, even if the situation is going to be evident in the real economy for many months to come. Earnings are generally beating expectations – 84% so far according to FactSet. As commented on last night, growth is stalled – the Atlanta Fed's Q3 GDP estimate is down to just 0.5% from +6% in the summer; inflation is running at +5% at least – German producer price inflation is running above 14%, and the yield curve is inverting, but 'stonks' just keep on rising. Rates flattish close to multi-month highs today – as noted yesterday there has been some mild steepening in yields, 2s/10s at 1.25%, 5s30s at 0.96%.
Travel stocks are doing a little better in early trade with IAG (LON:ICAG), EasyJet (LON:EZJ) +1% after posting sizeable losses yesterday as the UK signalled it could reintroduce some restrictions, whilst rising case numbers will make the country less accessible to many foreigners.
Oil is a little lower this morning after moving to fresh multi-year highs overnight – WTI just a shade under $84, Brent hitting $86 a barrel. US inventories were bullish with big draws for distillates and gasoline. Global inventories still falling, India is again calling on OPEC to pump more. Reports indicate Exxon is debating abandoning some of its biggest oil and gas projects. 
Tesla (NASDAQ:TSLA) earnings beat expectations, but the stock fell. Insiders have been selling the stock ahead of the earnings release, which maybe tells you something. EPS rose to $1.86 vs $1.59 expected on a record revenue quarter. gross margins improved – 30.5% for its automotive business and 26.6% overall. Vice president of vehicle engineering Lars Moravy struck a more conciliatory tone about the NHSTA than his boss: "We always cooperate fully with NHTSA." 
Unilever products are just about everywhere in just everyone's homes. So, when they raise prices it usually affects a lot of people. Unilever (LON:ULVR) raised prices by an average 4.1% in the third quarter across all its brands, helping it to achieve underlying sales growth of 2.5% despite sales volume declining 1.5%. Turnover rose 4%. The company said it is taking action to "offset rising commodity and other input costs". Share rose over 2%, delivering a boost to the FTSE 100. 
Barclays (LON:BARC) said profits doubled in the third quarter as a strong performance at its investment bank and further reduction in Covid-era impairments boosted earnings. Attributable profit rose to £1.45bn, up from $611m for the same quarter last year. Return on tangible equity returned to a more normal 11.9% from the 18.1% in the previous quarter. Provisions for loan losses fell to £120m as the economic recovery continues to ease pressure on banks. 
CEO Jes Staley touted "the benefits of our diversified business model" as Barclays posted its highest Q3 YTD pre-tax profit on record in 2021. Pre-tax profits at the investment bank rose a mighty 51% to £1.5bn, well ahead of expectations. Staley also pointed to consumer recovery and better rate environment. But does Barclays get enough credit for the investment bank earnings? Despite driving the performance in a fashion similar to some of the big Wall Street beasts it seeks to emulate, shares continue to trade at a hefty discount. Barclays trades at a price to book of about 0.5, whilst US peers are above 1, with BoA at about 1.5 and JPM closer to 2. But if investment banking revenues were not that sustainable and 'can't be counted on for future quarters', why do it? Certainly they are more volatile quarter to quarter – revenues from equity trading, M&A and advisory fees cannot be counted on in the coming quarters to the same extent that mortgage fees and credit card fees might be. But discounting these entirely seems like a mistake by investors. Barclays rightly touts its more diversified revenue stream. When consumer and business growth markets are strained – like during the pandemic – volatility in financial markets creates a good environment for trading revenues to prosper. Barclays is reaping the benefits.
After a softer day on Wednesday, the dollar is a tad firmer this morning as risk is on the back foot. Yen also stronger. GBPUSD tests 1.38 support – daily candles suggest near-term top put in at 1.3830 area and maybe calling for pullback towards lower end of the rising channel. Hourly chart points to declining momentum. Test at 1.3740 for bulls.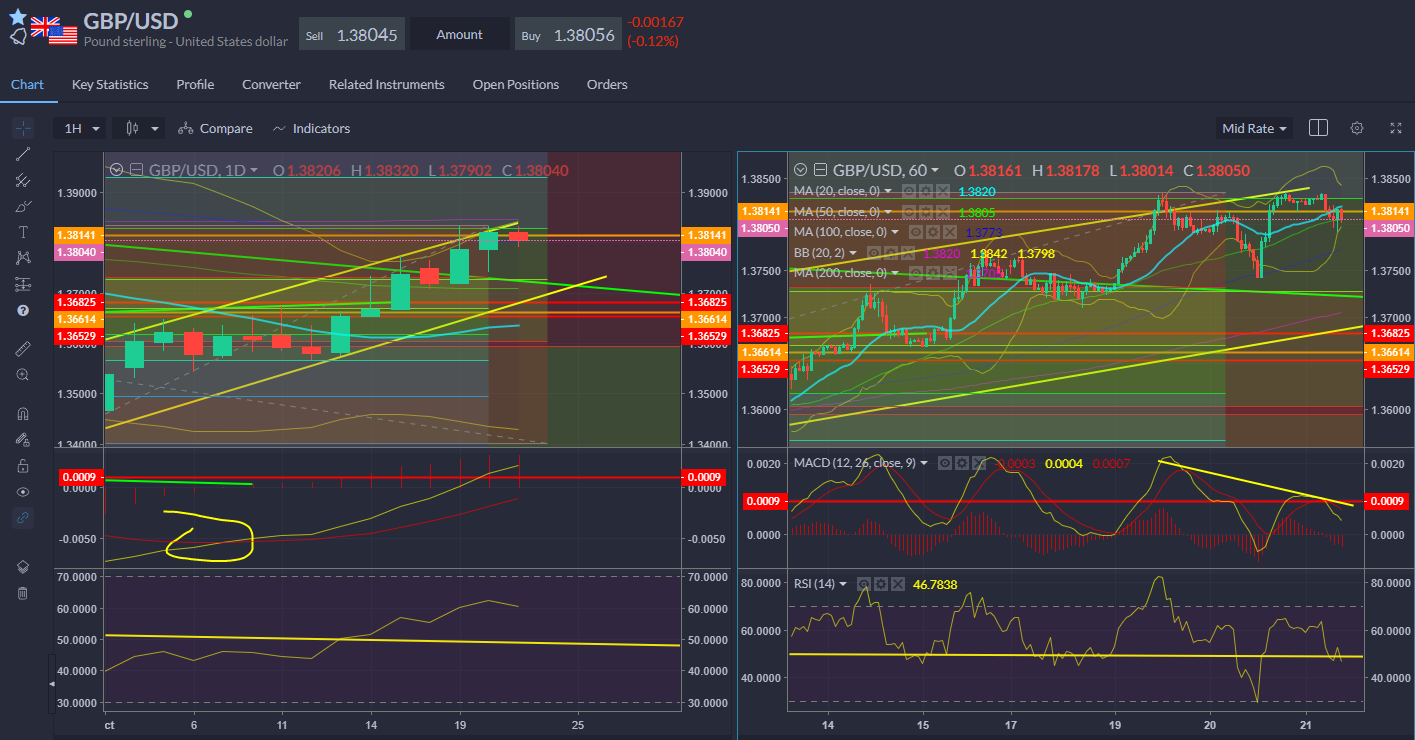 GBP/USD Daily Chart